Team OXYGENADDICT
Online Triathlon Coaching
Helping triathletes all over the world make their finish-line dreams a reality
Are you new to triathlon, considering stepping up a race distance, or looking to smash your personal best?
Team Oxygenaddict has been specifically created to help triathletes at every level, looking to reach new heights. We do that via offer a structured training plans specific to your ability, distance and time available to train, all with the ongoing help, support, guidance and encouragement of Coach Rob Wilby.
And, for a fraction of the cost of personalised, 1:1 triathlon coaching!
Listen to coach Rob explain a bit more about Team Oxygenaddict, and how we can help you become the best triathlete you can be.
DETAILED COACH-SUPPORTED TRAINING PLANS
Whether you're hoping to complete your first sprint triathlon, are looking to step up to Iron-distance or are an experienced race winner, your coach-supported training plan from Coach Rob will help you achieve your goals. No matter how high you've set your bar.
EXCLUSIVE MEMBER-ONLY CONTENT
Regular podcasts, live video Q&A sessions, and an ever-growing collection of training resources exclusively available to Team Oxygenaddict members
AFFORDABLE MEMBERSHIP
At just £635 per year Team Oxygenaddict provides the benefits of personalised, 1-1 coaching for a fraction of the cost
EXPERT COACHING ADVICE
Ongoing access to Coach Rob via our private Facebook group and monthly group coaching calls to ask all of your triathlon and training related questions
BE PART OF OUR COMMUNITY
Our awesome and active private Facebook community is where you can meet and talk all things triathlon with your team mates and chat with Coach Rob.
TEAM OXYGENADDICT KIT!
Represent Team Oxygenaddict at races with our high-quality, great value race kit designed and developed in conjunction with Raceskin
My aim with Team Oxygenaddict is to make available the many years of experience I have in coaching age-group triathletes to a wider group of people. One-to-one coaching is cost-prohibitive for many people so by creating an online coaching platform and environment we're able to offer all of the main benefits of personalised coaching at a significantly lower cost.
The support, guidance and encouragement of a coach is hugely important in triathlon – especially for most of us who are fitting training and racing in around our family, work and personal lives. The plans we create take all of that into account and are based around the same philosophies that have helped many of my athletes become triathletes, qualify for World and European championships and achieve age-group podium positions. Most importantly you'll be able to train with the reassuring knowledge that you'll get to the start line race-ready and in the best possible shape.
Rob Wilby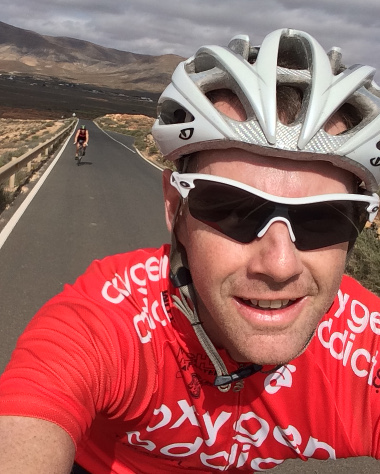 Rob is a British Triathlon coach, assessor & educator
With over 20 years' coaching experience, Rob is one of the most respected triathlon coaches in the UK. He is Head Coach at Knutsford Tri Club, and works for British Triathlon as a Coach Educator and Assessor, helping to develop the next generation of triathlon coaches in Great Britain.
Rob has coached hundreds of triathletes at all levels
Rob is equally adept at coaching people brand new to triathlon as he is to world-championship qualifiers and race winners. More than 20 of his athletes have represented their country at triathlon and duathlon over the last 5 years, and several have gone on to Iron-distance and 70.3 AG podiums, World 70.3 Champs and Kona qualifications.
Rob has represented Great Britain at Triathlon
Having raced for Team GB at the ITU World Long Course Triathlon Championships, Rob has first hand experience of the various challenges of triathlon from an athlete's perspective as well as that of a coach.
Rob has been featured in: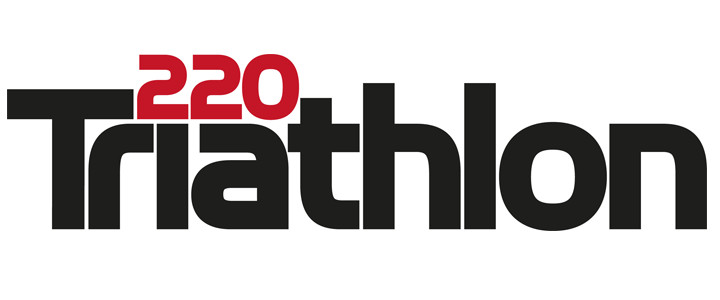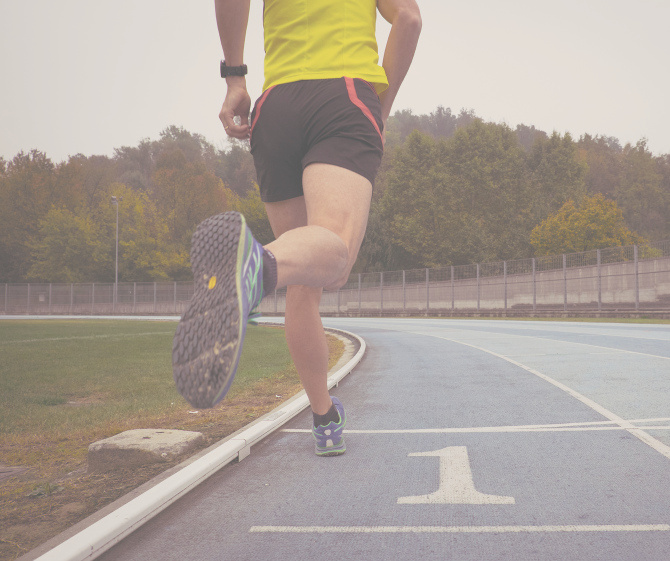 A COACH-SUPPORTED TRAINING PLAN
You'll receive one of over 50 different training plans that matches your strengths, weaknesses, experience, time available to train and when your target triathlon is. Each training session will come with a detailed explanation of exactly what you should be doing, at what level of intensity and for how long. Some sessions will be short and of high-intensity, others will be longer but slower. However each swim, bike and run session will serve a very specific purpose and aims to balance training and recovery over the course of each week.
We appreciate that work, family and life in general means that it may not be possible for you to complete all training sessions all of the time. We'll make sure you know which sessions to prioritise and how to adjust your training week to make the most of the time you do have.
TRAINING PEAKS ACCOUNT
Each week a detailed explanation of all your training sessions will be uploaded into your FREE Training Peaks account. Training Peaks is a market leading online training software that allows you to see your upcoming training sessions by day, record your activity and view your progress over time. If you haven't used it before, don't worry – it's very intuitive to use and won't cost any extra to set up.
All members have access to the how-to guides including how to interpret the information that Training Peaks provides, and how to track your improvements over time. As well as being able to see your training sessions days and often weeks in advance, you'll also receive daily email reminders about your upcoming sessions ensuring that you're always fully prepared for the training day ahead.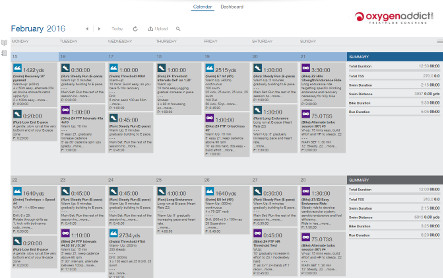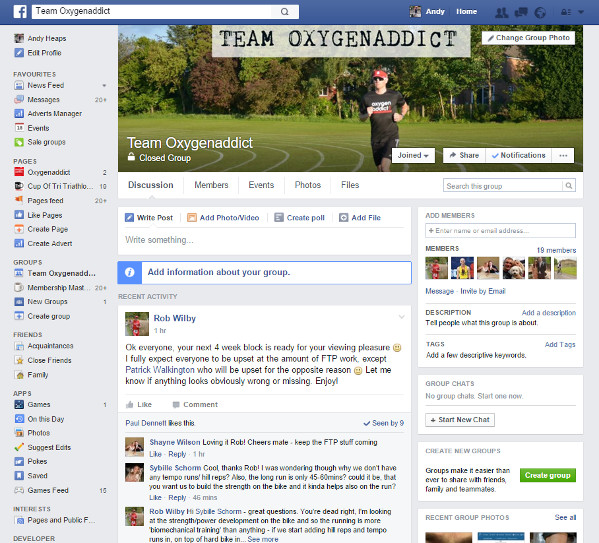 EXPERT COACHING GUIDANCE & SUPPORTIVE COMMUNITY
Our private Facebook group is a great place to chat with your team mates, compare notes on training and racing and ask questions – big and small. There are no stupid questions at Team Oxygenaddict and our growing community is incredibly supportive of each other. Everyone in the team shares a common goal so it's good to know there's a group of like-minded triathletes at your fingertips that understand where you're coming from. You'll probably even find you have fellow team mates competing in the same races as you!
The Facebook group is also the primary place to get training advice from Coach Rob. If you have any questions about how to do specific training sessions, want help understanding your training data or advice on anything else to do with training or racing he'll be there to offer first hand expert coaching support and advice. 
EXCLUSIVE MEMBER-ONLY CONTENT
In the Members section of the Team Oxygenaddict website you'll find a great selection of member-only content to support your training. Coach Rob posts regular guides – written, audio and video – from how to do swim drills through to helping you understand the structure of your training plan and just about everything in between! We're always adding new content and you'll always be told when there's something new in there for you to check out.
Coach Rob also hosts monthly group coaching calls via Google Hangouts. All members are invited to these and they are a great opportunity to get some face time with Rob and another chance to ask him questions directly. We make all of our coaching calls available to view later if you're unable to attend.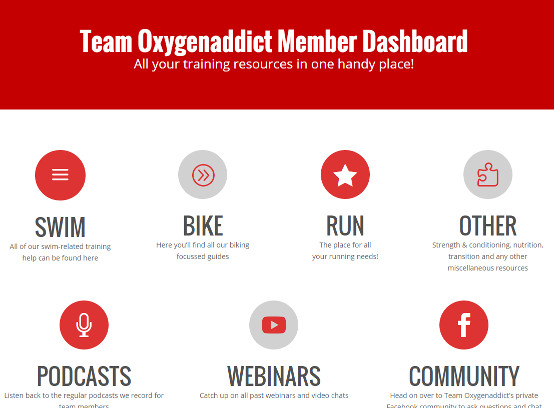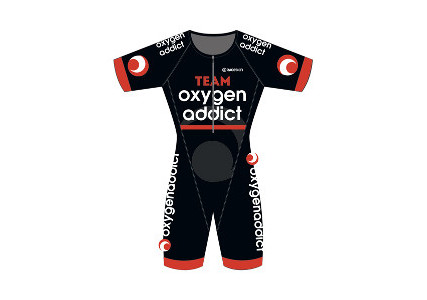 TEAM KIT
We have designed and produced Team Oxygenaddict cycling tops, bib shorts, tri suits, speed suits and running vests in conjunction with Raceskin. Raceskin's kit is of an incredibly high quality & standard, with nothing but good things being said by our team members.
All Team Oxygenaddict athletes will have the opportunity to purchase kit on a number of different occasions throughout the year.
ANNUAL MEMBERSHIP
(equivalent to £53 per month & no signup fee - SAVE £365 per year)
**MOST POPULAR OPTION** 

SAVE £365 PER YEAR compared to the pay-monthly option

STRUCTURED TRAINING PLAN relevant to your ability, experience and goal race

ALL PLANS WRITTEN by experienced and respected triathlon coach Rob Wilby
UNLIMITED ONLINE COACH ACCESS with Coach Rob in our Facebook group for any questions you have
FREE TRAINING PEAKS ACCOUNT to deliver and record all training sessions
DAILY EMAIL REMINDERS of your upcoming training sessions
COACH ADVICE on how to reorder / prioritise your training week if something comes up
ABILITY TO SWITCH TRAINING PLANS if your race plans change
MONTHLY GROUP COACHING CALLS online video chats with Coach Rob
ACCESS TO EXCLUSIVE MEMBER-ONLY CONTENT videos, podcasts and guides to support your training
ACCESS TO OUR PRIVATE FACEBOOK COMMUNITY to meet, get to know and ask advice of fellow team mates
TEAM RACE KIT available to purchase from Raceskin
EXCLUSIVE PARTNER DISCOUNTS
SAVE £365 PER YEAR compared to our monthly membership
NO SIGN UP FEE!
MONTHLY MEMBERSHIP
(monthly payment + £100 sign-up fee)
STRUCTURED TRAINING PLAN relevant to your ability, experience and goal race
ALL PLANS WRITTEN by experienced and respected triathlon coach Rob Wilby
UNLIMITED ONLINE COACH ACCESS with Coach Rob in our Facebook group for any questions you have
FREE TRAINING PEAKS ACCOUNT to deliver and record all training sessions
DAILY EMAIL REMINDERS of your upcoming training sessions
COACH ADVICE on how to reorder / prioritise your training week if something comes up
ABILITY TO SWITCH TRAINING PLANS if your race plans change
MONTHLY GROUP COACHING CALLS online video chats with Coach Rob
ACCESS TO EXCLUSIVE MEMBER-ONLY CONTENT videos, podcasts and guides to support your training
ACCESS TO OUR PRIVATE FACEBOOK COMMUNITY to meet, get to know and ask advice of fellow team mates
TEAM RACE KIT available to purchase from Raceskin
EXCLUSIVE PARTNER DISCOUNTS
NO LONG TERM CONTRACT – simply pay a month at a time
£100 ONE-OFF sign up fee
HOW IS TEAM OXYGENADDICT DIFFERENT TO 1-1 TRIATHLON COACHING?
We aim to provide most of the benefits of personal triathlon coaching in an online environment. Just like having personal coaching, your training plan will still be created based on your own ability, experience and goals, and you'll be provided with all the guidance you need to understand your training sessions and track your progress. We'll arm you with everything you need to understand your training plan, interpret your results and track your progress.
While you won't be meeting or picking the phone up to have a conversation with coach Rob, you will still have direct access to him via our private Facebook group. One of the great benefits of the online coaching set up compared to personal triathlon coaching is the ability to meet team members and form great friendships via our community. And of course you'll get all of this at a fraction of the monthly cost of personalised coaching!
WHAT HAPPENS AFTER I JOIN?
Once your payment has been processed you'll receive a series of emails:
Confirmation of your membership, payment and subscription set up
A welcome email with instructions about how to set up and / or share your Training Peaks account with Coach Rob, how to join the private Facebook group, how to access member's only content on the website and which content you should look at first.
A link to our triathlete questionnaire where you can tell us about your experience, goal race, time available to train etc so that we can customise your training plan appropriately
A link to a medical form that needs completing and returning before you can access your plan.
The athlete questionnaire and medical form are really important and we won't be able to create your plan until they've been completed. Your training plan will then be added to Training Peaks starting Monday of the following week and you'll be pointed in the direction of everything you need to understand and interpret your plan and training sessions. Other than that it's a case of introducing yourself to your fellow team mates in Facebook and starting your training journey!
I HAVE A PRE-EXISTING MEDICAL CONDITION / INJURY - DOES THAT MATTER?
This will essentially come down to your doctor's advice. As part of the set up process once you've joined, we'll need you to complete a medical questionnaire asking you the following questions:
Has your doctor ever said that you have a heart condition and that you should only do physical activity recommended by a doctor?
Do you feel pain in your chest when you do physical activity?
In the past month, have you had chest pain when you were not doing physical activity?
Do you lose your balance because of dizziness or do you ever lose consciousness?
Do you have a bone or joint problem that could be made worse by a change in your physical activity?
Is your doctor currently prescribing drugs (for example, water pills) for your blood pressure or heart condition?
Do you know of any other reason why you should not do physical activity?
If you answer yes to any of these you'll need your doctor to confirm you're OK to train before we can produce your training plan. With injuries, again your medical professional is the go-to person to help you understand what you can / can't / should / shouldn't do in training. We will give advice on how to alter your training schedule in line with your injuries but are not able to give medical advice
I'M NEW TO TRIATHLON - DOES THAT MATTER?
If you have a reasonable base fitness and ability in each of the 3 disciplines then there's no reason you shouldn't be able to complete an Iron-distance or 70.3 triathlon. Coach Rob has worked with many people new to the sport over the years, even some whose first triathlon has been an Ironman! Please do get in touch though if you'd like to discuss this in more detail.
HOW MUCH TIME DO I NEED TO BE ABLE TO DEDICATE TO TRAINING?
One of the factors that goes into creating your training plan is the amount of time you have available to train. Our iron-distance training plans typically require a minimum of 6 hours per week, increasing to around 10 hours in a small number of key weeks. As a general rule though the more time you have available the better results you'll see.
DO I HAVE TO USE TRAINING PEAKS?
Yes. Our plans are all designed in such a way that makes it quick and easy to add the right sessions into your schedule at the right time. If you've never used training peaks before don't worry – it's a great piece of online software. It takes just a couple of minutes to create an account and will make it really easy for you to see what you should be doing, when. The free version is also perfectly adequate for your Team Oxygenaddict membership so there aren't any additional costs.
WILL THERE BE GUIDANCE TO HELP ME UNDERSTAND THE SCHEDULED TRAINING SESSIONS?
Yes – each session will come with a detailed explanation of what you should be doing, at what level of intensity and how long for. There will also be supporting material in the member's area to help you understand the purpose of different sessions and how to track your progress.
WHAT WILL A TYPICAL TRAINING WEEK LOOK LIKE?
We'll section your week into two blocks of training:
Tuesday
– 
Friday
, and
Saturday
 – 
Sunday
.
Monday
will usually be a recovery day, meaning either total rest, or at most a recovery swim.
Your training week is organised around the number one key session: the big endurance day. This is usually a long ride or brick workout – on one of the weekend days. Second to this is the long run in the week. There will be occasions when you'll do both of these workouts over the course of a weekend – long ride
Saturday
, followed by long run
Sunday but that won't occur too often
.
Your other key sessions will be a bike interval session – usually on a
Tuesday
, and your key swim – usually on a
Wednesday
.
Depending on your background, training history and time available to train each week there will be a number of other 'supporting' sessions to complement these sessions. Generally, the greater your training history, the more training you'll be able to safely absorb.
Most people will have 3 swims a week, and an additional 4th open water swim in the weeks closest to your goal race. We don't expect everyone to complete all these swims, but you'll be given guidance as to which are the highest priority. A good rule of thumb is, the more often you swim, the faster you'll improve. You might decide that if you can already swim the race distance comfortably your training time might be spent better on the bike and run. We have dozens of examples of athletes who have only swum once per week in the run up to their 70.3 or Ironman event. It all depends how much you want to improve your swim!
I COME FROM A SWIMMING / BIKING / RUNNING BACKGROUND - HOW WILL THIS AFFECT MY TRAINING PLAN?
The best way to think about your triathlon is that, regardless of your training background, for 70.3 and iron-distance triathlon you'll need to spend the majority of your time developing fitness on the bike. The cardiovascular fitness you'll develop on the bike will carry over to both swimming and running. This leaves the majority of your swim training devoted to practising good technique. If you're from a swimming background, the chances are that you are already a *good enough* swimmer, and your training time is best spent working on your weaknesses. If you're from a running background, we need to get you fit and strong on the bike so that when you get onto the run in your race, you're not so wrecked that you can't run at all! The bike is the safest place to do hard work. Hard running is the number one best way to injure a triathlete. With this in mind, the majority of your running will be steady running. This will usually take a little 'suspension of disbelief' – but you don't have to run hard in order to become a great triathlon runner. You do need to be consistent in your run training, and that means not getting injured, or picking up little niggles all the time.
WHAT KIT AND EQUIPMENT IS ESSENTIAL?
There's really not a great deal of 'essential' kit required. For your pool-based swims just goggles, swim hat and a pull buoy (which you can often get from the pool anyway). For open water swims you'll likely need a swimming wetsuit, especially if your goal race requires you to wear one. You can often hire wetsuits for training and racing if needs be. A road bike is absolutely fine for your bike training and racing and a turbo trainer is going to be necessary for your indoor bike sessions. It doesn't need to be an expensive turbo full of features – one for £100 or less will do everything you need for our training sessions. Apart from running shoes the only other 'essential' on the kit list is a heart-rate monitor. Extras like power meters, aero bars / helmets, triathlon specific bikes, race wheels etc. will all help improve your performance but are by no means essential for any of our training sessions.
WHAT HAPPENS IF I MISS TRAINING SESSIONS?
Firstly don't worry. We understand that work, family and life in general are prioritised over triathlon sometimes. Missing the odd session here and there isn't the end of the world. In the members's area of the website you'll be able to see which sessions in the week are 'key', i.e. not to be missed if possible, and when it's ok (and not ok) to double-up on training sessions later in the week. That said though the more sessions you miss the less you'll progress so you should absolutely set out aiming to complete as many sessions as possible each week.
CAN I SWAP TRAINING SESSIONS AROUND DURING THE WEEK?
As a general rule of thumb, no – you shouldn't. The structure of each week aims to balance intensity and recovery to make sure you end each week fitter and stronger than the previous. However depending on your week's training schedule there might be no detriment in moving a session from one day to another. There will be guidance on this to help you in the member's area of the website and Coach Rob is always on hand in the private Facebook group if you're unsure.
I DON'T HAVE A GOAL RACE IN MIND YET - IS THAT OK?
Yes, that's absolutely fine – just tell us what you're thinking you might enter and when, and we'll base your training plan on that until you confirm your entry
WHAT EVENTS SHOULD I LOOK TO ENTER AS PREPARATION FOR MY GOAL RACE?
If you're training for an iron-distance race we recommend you try and enter a 70.3 distance race 4-6 weeks before. We also don't advise entering a marathon in preparation for an iron-distance race – in our experience the benefits rarely outweigh the risks, and your training plan will be structured such that it is not necessary. For 70.3 athletes we recommend entering an Olympic distance triathlon 4-6 weeks before your goal race. We understand that triathletes are often keen to race fairly frequently throughout the season. That's not necessarily a problem, and we usually won't tell you not to, but bear in mind that the training plan you're adhering to has been structured very specifically to get you to your goal race in the best possible shape. So if you have several hours of training scheduled at a weekend but you want to enter a sprint triathlon it's not going to be the best use of your time relative to your goal race performance.
MY GOAL RACE MIGHT CHANGE - IS THAT OK?
Yes, that's absolutely fine. Just be sure to tell us so that we can adjust your plan accordingly.
WHAT CONTENT IS IN THE MEMBERS AREA AND HOW OFTEN DOES NEW CONTENT GET ADDED?
New content is being added all the time – our list of content ideas never gets shorter! The main purpose of the members-only content is to act as a support for your training sessions and answer any questions that might crop up. For example we have a series of video guides on how to correctly perform the swim drills you'll see in your training plan. We also have Coach Rob talking through in detail how to approach certain fitness tests, and we'll be recording all of our live webinars and making them accessible here too.  
CAN I REQUEST CONTENT TO BE ADDED TO THE MEMBERS AREA?
Absolutely! We love this sort of feedback from the team. Just let us know your idea and we'll see what we can do
DO I NEED TO BE ON FACEBOOK TO BE PART OF TEAM OXYGENADDICT?
You don't need to be on Facebook but it'd certainly help. We have a great community of our team members in our closed Facebook group and it's the most effective way to ask questions, gauge opinions and get to know your team mates. That said, if you're just joining the team for the training plan then that's absolutely fine – your training plan won't be affected.
HOW / WHEN CAN I SPEAK TO COACH ROB?
Once you're a member you can post in the Facebook group whenever you want – Rob and the team are on there regularly. If you're not happy posting / asking something that your team mates will be able to see you can fill in the contact us form on the site
WHERE CAN I MEET FELLOW TEAM OXYGENADDICT MEMBERS?
Almost all of our Team members are an active part of our private Facebook group. As the team is spread around the globe that's definitely the best place to introduce yourself and get to know your team mates.
DOES TEAM OXYGENADDICT HAVE RACE KIT AVAILABLE TO PURCHASE?
We will have a number of different items of triathlon and cycling clothing available to purchase shortly – watch this space!
WHAT PAYMENT METHODS DO YOU ACCEPT?
We accept all major credit and debit cards and your subscription and payments will be created and taken securely via our website.
WHAT CURRENCIES CAN I PAY IN?
We accept team memberships from all over the world. Payments are taken in GBP and then your credit card provider will exchange the amount into your local currency. There should be no issue therefore with paying in your own currency
WHEN WILL MY MONTHLY PAYMENT BE TAKEN?
Your credit card will be charged on the same day each month. So if you initially join on the 1st of the month, it'll be the first of every subsequent month.
IS THERE A MINIMUM CONTRACT TERM WITH TEAM OXYGENADDICT?
No, you're free to cancel your team membership whenever you want. But obviously we hope you won't have any reason to! Just bear in mind that if you leave and wish to rejoin later there's no guarantee that the price will remain at the level it was when you originally joined. Check out our
terms and conditions
for more details.
WHAT SHOULD I DO IF I LOSE OR CHANGE MY CREDIT / DEBIT CARD?
All of your subscription and payment details are managed via the 'account' page of the Team Oxygenaddict website. You can update your details there whenever you need to. Should your card issuer decline a payment you'll receive an automated email from us letting you know that the payment was unsuccessful and our payment processor will automatically try again a number of times over the following days.
WILL THE PRICE I PAY EVER INCREASE?
For as long as you're a member, your membership will remain at the price per month you paid when you joined. If you leave and rejoin at some point in the future however, you'll be charged the current monthly membership fee.
IF I GET INJURED CAN I / SHOULD I CANCEL MY MEMBERSHIP?
That's up to you, and probably depends on how significant an injury you have. If you're not able to train for a couple of weeks or months then the support and advice of a coach can be really helpful in getting you back on track without increasing the risk of subsequent injuries.
Still got questions? Send us a message!