whatever your triathlon goal this season, you'll
If you'd like your triathlon performances to reach new heights while training in a manageable way that suits your lifestyle, safe in the knowledge that each and every one of your training sessions is designed to contribute to your race-day success – then read on.
WELCOME TO A FITTER, FASTER YOU…
To fulfill your triathlon dreams, you will have to work hard. But in a 'quality not quantity' kind of way. The training sessions you'll get from me in Team Oxygenaddict you will be detailed. They'll each serve a very specific purpose and yes, occasionally they'll be very challenging.
As a busy age-grouper your time is precious.  It's my job is to make sure every minute spent training helps you achieve your goal. And, more importantly, that you enjoy it every step of the way.
You probably have a hectic, occasionally unpredictable life. But that's OK. It's OK because you are determined to be the best triathlete you can be. Whether that means finishing your first triathlon or qualifying for the world championships. You have ambition. And drive. And you're prepared to work hard to succeed.
That's why I'd love for you to be part of TEAM OXYGENADDICT
It amazes me how many busy age-groupers try to train for 15+ hours week-in, week-out.
It might be sustainable for a few weeks, maybe even a month or 2.
But how does that affect the rest of your life – Are you foregoing sleep? Are you often tired & sore?
Do training sessions often feel like a struggle or chore?
Does your work & family life suffer as a consequence?
Unfortunately I see that all too often.
And it doesn't need to be that way.
The training programs I've developed for Team Oxygenaddict are realistic. They're achievable. And most importantly they get results. BIG results.
I've lost count of the number of Team Oxygenaddict athletes who have told me they've seen bigger and better improvements than ever before, for less training.
Even our elite, long-distance age-groupers (ETU / ITU medalists, Kona qualifiers, regular podium-ers) spend more then half their season training less than 10 hours per week on average, yet continually achieving greater and greater results.
You simply can't put the hours in of a professional triathlete. So why try?
Most of my athletes are age-groupers like you.
People for whom triathlon is a passion.
But that also have other commitments. Working long hours. Busy family lives.
The balance of these moving parts is often as challenging as the training itself!
Through working with hundreds of successful athletes like you I've seen one common theme,
CONSISTENCY
The best results, WITHOUT EXCEPTION, come from consistency. And consistency…
…comes when training compliments (not hinders) the rest of your daily life
…comes with achievable (physically, mentally & logistically) training sessions
…boosts confidence through visible, tangible improvements week in, week out
…comes from a training plan centered around staying fit, healthy & uninjured
Every single Team Oxygenaddict training session, each and every week is planned with this in mind.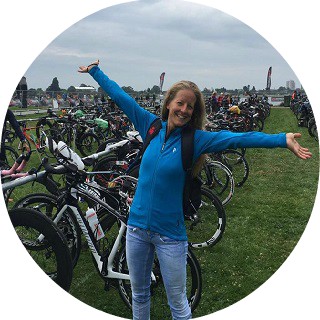 SYBILLE SCHORM
"I have structured training from a coach who not only gives me sessions, but also outlines the purpose and idea behind them. As I had never had a coach before it took a bit of time to put my full trust and faith in Rob and his training philosophy, but now I'm glad I did!
Having access to coach Rob in the Facebook group for random questions, coaching tips and advice on tweaking my training plan when something unforeseen crops up is great.
But not just Rob – the ability to chat to and get motivation from other team members is brilliant. There have been a few times I've posted my turbo training woes, and straight away team mates jump on it and give me exactly the support and motivation I need to bounce back"
Sybille completed Ironman Copenhagen in 2016, smashing her 12:00 target time, finishing in 11:08!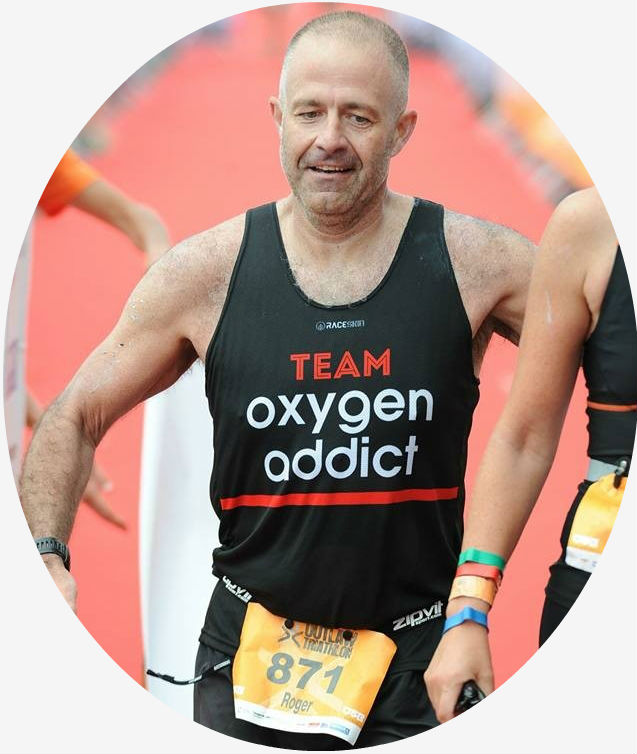 ROGER KNIGHT
"I've got an easy to follow training plan that's built around my events. I get all the support I needed to alter my plan as and when I need to, and if there's anything I don't fully understand all the help I could ever need is right there.
I've been so impressed with the feedback from the Team community – fellow team mates as well as Coach Rob – it's made me want to do well.
Everyone in Team Oxygenaddict is on this journey together! I've had some dark times out for long hours on my own on the bike, but when I got back I logged onto our Facebook community to see what everyone else had been up to – which made me feel better!
And most importantly I'm getting great results! Last season I got PB's in marathon, 5K and finished my 70.3 & iron-distance races! Team Oxygenaddict gave me structure and support to get me to the start line of my first iron-distance race in the best shape possible"
Roger recently completed his first Iron-distance race in 11:47!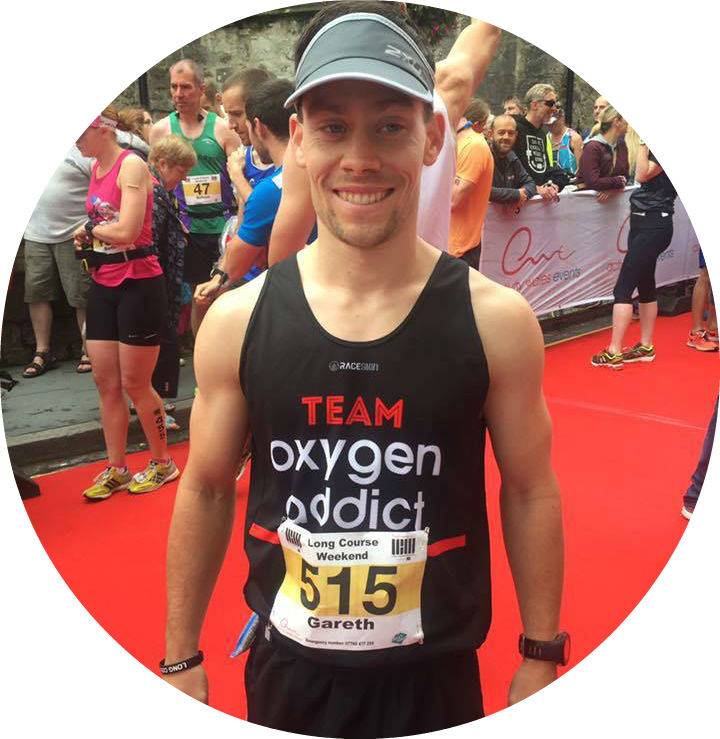 GARETH PETTS
"When I started working with Rob and being in Team Oxygenaddict I was able to make some real headway in the pool and my swim times started to come down
I saw about a 14% increase in my bike FTP from the start of the year to the summer, and started to understand all the data and how it could help me train and improve.
I headed out to Kona in the best shape I could have hoped for and was so pleased with my performance out there!"
Gareth qualified for his first Kona Ironman World Champs in 2016 and crossed the line in 9:48!
"I CREATED TEAM OXYGENADDICT AS A WAY TO GIVE 90% OF THE VALUE OF 1-2-1 COACHING FOR A FRACTION OF THE PRICE"
Rob Wilby, Founder & Head Coach – Team Oxygenaddict
Simple. Because I love helping passionate triathletes like you better themselves.
Every year, triathlon becomes more and more popular. Every year more and more amateur triathletes come to me looking for coaching. And every year I have to turn more away than I can take on.
Personal triathlon coaching involves 100% bespoke training plans & regular reviews of athlete data. And that's very time intensive and severely limits the number of athletes I'm able to work with.
But turning so many people away every year didn't sit right with me.
So I developed Team Oxygenaddict.
Team Oxygenaddict is my way to offer all of my experience, skills & expertise as a triathlon coach to a far greater number of athletes. Athletes like you.
I've taken everything I've learnt from coaching hundreds of athletes over many years and created well over 50 different training plans covering all distances of triathlon & duathlon, all levels of athlete experience, strengths, weaknesses and available training time.
SO WHAT DOES THIS MEAN FOR YOU?
You'll receive a training plan that suits your ability, experience, time available to train and goal races.
Every day my coaching team and I will be in our private Facebook group as your coaches & mentors. Along with our monthly group coaching calls we are there to provide unlimited guidance, support, encouragement and answers to your questions.
Questions from whether it's OK for you to swap sessions around, to what to do with your week if you've missed a session, to how to interpret your performance and data from a particular session. There's no such thing as a stupid question in Team Oxygenaddict!
And for almost ONE THIRD* of the price of my cheapest 1:1 coaching package, yet 90%+ of the value, can you afford NOT to join Team Oxygenaddict?
*(annual membership: £635 in Team Oxygenaddict compared to £1500 for personal coaching)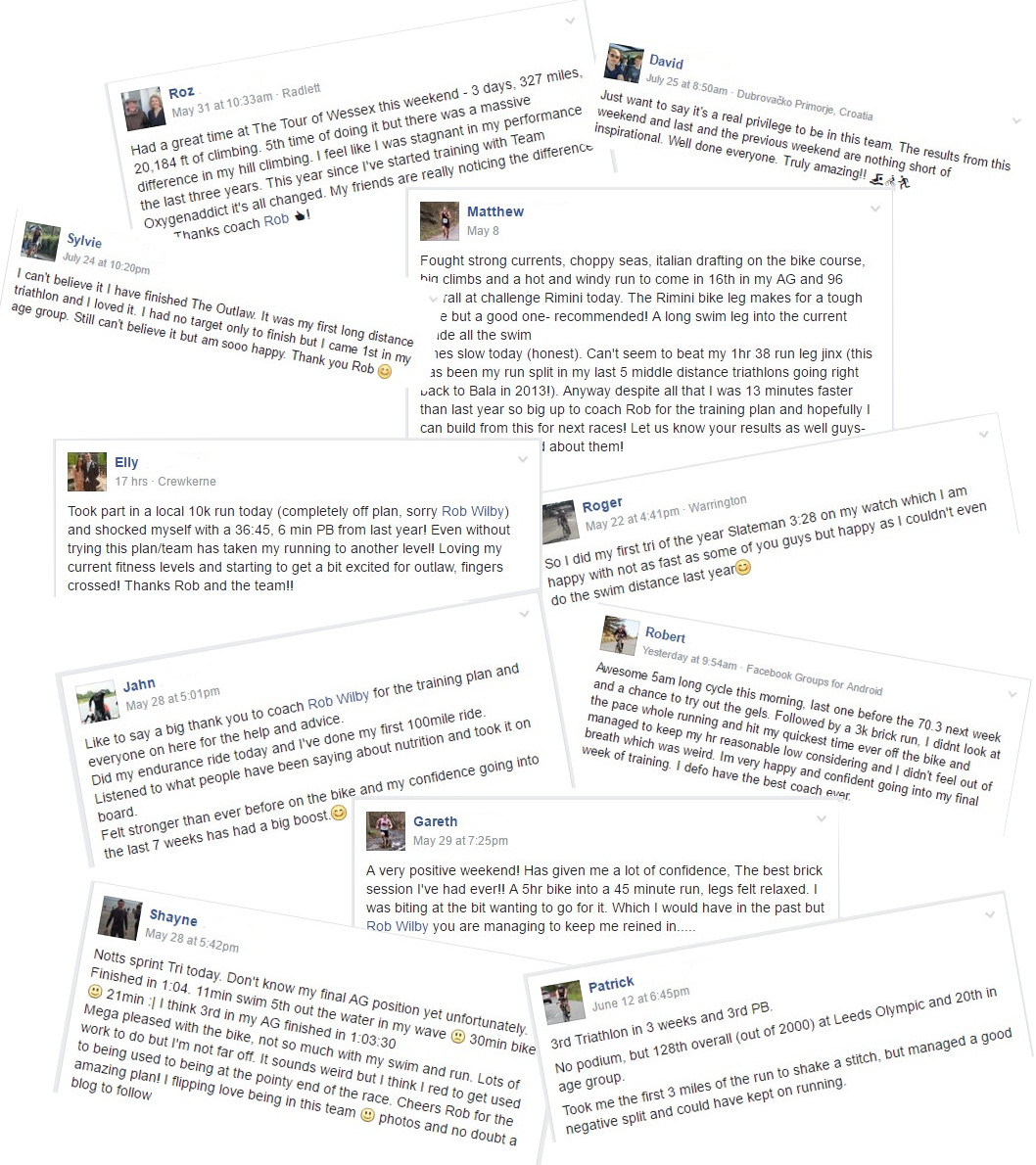 WHO IS TEAM OXYGENADDICT FOR?
We are a truly global team with athletes all over the world
We cater for all levels of ability, experience, age and ambition. We have athletes who became part of the team with no prior triathlon experience (or recent fitness) but with bucket-list goals of completing a triathlon. We have team members who are simply on a journey to regain fitness and health.
We also have several athletes who are looking to take the daunting step up to become an Iron-distance triathlete, dreaming of hearing those elusive words: "YOU. ARE. AN IRONMAN!"
2016 saw several Team Oxygenaddict athletes successful in their bids to qualify to represent their country at triathlon; We had several age-group winners & podiums at Challenge, Ironman and national races; An ETU long course silver medalist, and a Kona qualifier and finisher!
So whether you're a young or mature athlete; Male or female; Northern or southern hemisphere; Completely new to the sport or an elite age-grouper; A sprint, Olympic, 70.3 or Iron distance triathlete or duathlete, Team Oxygenaddict is ready and waiting to help you on your journey!
Do any of these sound like you?
You are time-poor and need every session to count…
You risk over-training through knowing no better…
You don't know how best to reorder your training if/when you need to…
You are sick of worrying that you're not training enough…
You struggle with injuries…
You have struggled to put together the 'perfect race'…
You are finding your progress is plateauing…
You have 'junk' miles in your training that aren't bringing improvement…
You are new to some / all disciplines and don't know where to start…
Or if you're already a strong athlete with ambitious goals of representing your country, qualifying for world championships or winning races…
BUT you are determined, willing to work hard and are committed…
Then you're in the right place.
In Team Oxygenaddict you will know that every minute of your training plan serves a very specific purpose relative to your ultimate goal.
You will have access to a proven & experienced coach to answer any questions, support through any difficulties and be on hand to offer advice and motivation.
You will be part of a supportive community of like-minded fellow triathletes.
And most importantly you will cross that finish line faster and fitter than you ever have been before, having loved every minute of the journey there.
You're training for events such as XTERRA, ultramarathons, ultra distance triathlons (e.g. double, tripe, deca Ironman), adventure races or winter triathlons
You require your coach to proactively and regularly review your training data…
But we WILL give detailed answers every single question you post in our Facebook group about specific sessions, training data etc
You require an entirely bespoke training plan that is amended and tweaked on your behalf whenever required…
But we WILL be on hand to help you rearrange your plan, whenever you need it.
And you ARE able to change training plans should your race plans change
You require 1:1 coach access via email, Skype, phone or face-to-face…
But we WILL provide unlimited coach access via our Facebook group and monthly group coaching calls
And, most importantly, Team Oxygenaddict is DEFINITELY not for you are expecting to get big results without the willingness to commit to your training.
And now I'd like to share with you, the
TEAM OXYGENADDICT MEMBERSHIP
All you need to be the triathlete you've dreamed of being
 A PROVEN, RACE-SPECIFIC TRAINING PLAN
Based on your experience, strengths, weaknesses, available training time and planned races we'll select the most approriate of over 50 structured training plans from sprint to iron-distance, triathlon or duathlon. Written by Coach Rob Wilby for you
 DETAILED TRAINING SESSIONS VIA TRAINING PEAKS
All your training sessions will be provided via a free Training Peaks account. You'll know which sessions of the day / week are 'required', 'optional' and 'additional'. Each session will be accompanied by a detailed description of exactly what is required in the session, how long and at what intensity.
 DAILY TRAINING EMAILS
Wake up to an email with your training for the day detailed for you!
 UNLIMITED ONLINE COACH ACCESS
Rob and his coaching team are available every day in the Team Oxygenaddict private Facebook group to provide all the support you need and answer any questions you have
 MONTHLY GROUP COACHING CALLS
Your monthly opportunity for face time with, and to chat in detail to Rob & the rest of the team!
 SUPPORTIVE GLOBAL COMMUNITY OF TEAM MATES
Our training plans will get you amazing results. But it's our online community we're most proud of. Triathlon can be a lonely sport sometimes – but guaranteed – whenever you need them, your fellow team mates will be on hand in our Facebook group to support, encourage and motivate.
 UNLIMITED ABILITY TO SWITCH TRAINING PLANS
Plans change. We get that. If your goal race changes for any reason, no problem. Just let us know what's changing, and we'll swap your training plan to the most suitable!
 MEMBERS-ONLY CONTENT
We've developed a great library of training resources available exclusively to members. From how-to guides, to videos on swim drills, to podcasts on FTP tests, to written guides on understanding your training plan… and much, much more!
 TEAM RACE KIT
We've partnered with Raceskin to design and manufacturer some of the highest quality, best value training and racing kit available. From super-fast speedsuits, to uber-comfy bib shorts there's everything you need to show off your Team Oxygenaddict colours on race-day!
 EXCLUSIVE PARTNER DISCOUNTS
Team Oxygenaddict is now proudly partnered with a number of great brands offering amazing discounts to all members. From Precision Hydration (30% off) to HUUB wetsuits (25% off) to 4iiii power meters (10% off) and Training Peaks (20% off)… the list keeps on growing! These savings add up… quickly… in fact It doesn't take much for them to cover a hefty chunk of your membership!
Trusted by many amazing & inspiring athletes.
"I highly recommend this to anyone that wants to get faster, more fit and smarter about the sport while still maintaining your regular family and work life. Oh yeah…and I'm about to turn 60 years old so if it works for me it will work for you!"

"A great bunch of triathletes and Rob around to answer questions, problems and motivate when needed.
Best investment you can make when wanting to do or improve your triathlon performance!!"

Structured plans, a coach who really knows his subject, a very supportive and open Facebook group full of amazing triathletes – the most inspiring coaching I've had!

IM Copenhagen, 2016: 11hrs 8mins (PB)
"I really like the structure of the training plan. It takes away all the stress of planning your sessions and worrying whether you have done the right amount of training"