Athlete Stories – Roger Knight
Roger is one of the founding Team Oxygenaddict members. He's seen phenomenal improvements in all 3 disciplines over the course of 2016, culminating in what he described as "the perfect race" at his first iron-distance event – The Outlaw, crossing the line in 11:47. There aren't many people that can say that about their first iron-distance event!
Over to Roger…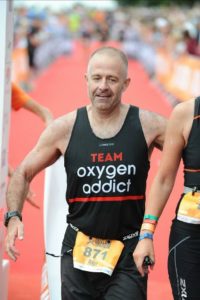 Having decided to try a triathlon I managed to get into the first Brownlee Brothers event. I didn't have a wet suit so I hired one for the day. I didn't have bike shoes so I wore my running shoes (which meant a very quick transition!). However I jarred my knee getting off the bike as I was going quite quickly and didn't realise the etiquette of getting off before the dismount line!
That knee injury put me out of running for over 12 months.
I eventually got back to running and cycling and booked myself into the 2015 Slateman tri. However getting nervous before the event and having not done enough training I switched to the sprint event which I duly did and enjoyed, followed by Chatsworth Tri and The Conway Sea Tri (all sprint distance).
I then got out of bed early on the morning of Ironman UK 2015 and went to watch the swim start. It was 6:00, it was raining very hard, but none of it seemed to matter to anyone. Later I bumped into Coach Rob where we had a brief chat about iron-distance events, and he mentioned that by planning far enough in advance anything is possible.
I went home and thought about it and promptly did nothing for 3 months! During that time a couple of running friends starting posting on Facebook that they had been for another run. And then another one, and then another one. Both ordinary people with jobs and children.
It dawned on me that I needed to find the time to do something and that I was wasting a lot of time doing nothing. So in October I booked Outlaw (iron-distance) 2016.
I had so many books on training and plans etc. I got confused as to where to start, but I followed one for a few months, and all was going OK. Then Outlaw offered a training peaks plan for ½ price so I thought this would cut through the crap and give me a focused plan for my event so I took it knowing it wouldn't start until March or later on in 2016.
Bring on Team Oxygenaddict!
Only a couple of weeks after the Outlaw offer, Coach Rob persuaded me with "we are nicer" and so I joined.
What does OA bring that all my other attempts to train didn't?
Community. I've been so impressed with the feedback from fellow team mates as well as Coach Rob – it's made me want to do  well.
Easy to follow training plan. And if there was anything I didn't fully understand (like some of the swimming terminology), the Oxygenaddict team helped me through – there were even free offers of swim help from some people!
Everyone in Team Oxygenaddict is on this journey together! I've had some dark times out for long hours on my own on the bike, but when I got back I logged onto our Facebook community to see what everyone else had been up to – which made me feel better!
Countless inspiring stories from team mates in our private Facebook group!
Great webinars for us team members – really effective and easy to understand.
Good feedback to questions raised in the group by other team members that help everyone
Plans built around my events – and all the help and support I needed to alter my plan where necessary, tapering etc.
Great results! This year I have got PB's in Marathon, 5K and done my first 70.3 in the heat at Bala.
So I would recommend Team Oxygenaddict to anyone – especially if you're worried about the loneliness of iron-distance training. I was warned but not fully prepared. Team Oxygenaddict gave me structure and support to get me to the start line of my first iron-distance race in the best shape possible.
The original training peaks plan had no life to it. It just turns up in my inbox and means nothing! Whilst I am sure it has a place, 140.6 needs a support mechanism in my opinion and being part of the team has done given me that…