Athlete Stories – James England
I have been part of the team since launch date and have loved every aspect. I've really enjoyed watching it all evolve and am excited for what the future holds.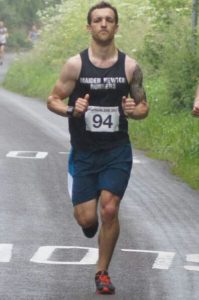 My Background:
Before joining the team I had completed 3 ironman triathlons with a PB of 12hr20. My journey started as a overweight 98kg couch potato. Triathlon has completely changed my life and I love it.
The Training:
Having my training all set out on TP for me makes everything so much easier. I just simply complete the sessions and trust Rob and the team. No more worrying if I'm doing enough/to much, if I'm pushing to hard or taking it to easy. All the info is there. I just follow the sessions. No stress or hassle and feel great from it.
It's all too easy to skip a session if it's just something you planned to do… when it's prescribed it seems a lot harder to skip!
Results:
My big goal for the 2016 season was The Outlaw, and If I had the perfect day then going sub-11 hours there. In the end I missed the 11 hours mark by 6 minutes due to windier than expected conditions. But taking 75 minutes off by iron-distance PB in a year – it's an understatement to say I'm pretty pleased!
Throughout the season I've seen a 20% increase in my bike FTP – century rides no longer having guaranteed 'dark spots' and my bike fitness is noticeably better.
Running – I have always been very mid pack but shocked myself by finishing top 5 at a 10k recently with a massive 6 min PB of 36:45. Which given there's been no run training directly aimed at 10km or shorter distances – I'm very happy with!
I genuinely believe Team Oxygenaddict will considerably benefit anyone who joins, what ever level you are at. I can't see how anyone in the team could not agree. It's a great environment to be part of. Everyone helps each other where we can and Rob is always available when any questions pop up.
I can't recommend highly enough.